Yesterday while I was biking my dog  across Cascine park in Florence mumbling about a new product idea, my eyes was attracted by some strange orange points in the autumnal yellow carpets. I got off the bike to have a closer look. WOW! there was thousand of alkekengi fruits on the ground.
Alkekengi (Physalis alkekengi L.) is a plant from the same family of tomatoes, it is  invasive and an alien specimen in Italy, it is something negative!
Let me explain how to "eradicate" this evil presence:
1) pick-up some dozens of alkekengi fruits with their orange "lanterns"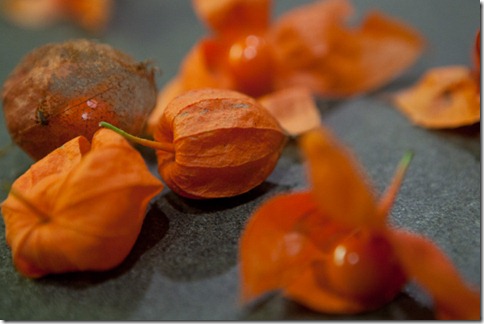 2) pop the lanterns and get the balls "naked", but without removing the "leaves"
3) prepare a "bain marie" for dark chocolate. If you don't have the right pot you can stack a metal bowl on a boiling water pot
3) when chocolate melts, start dipping alkekengi balls one at a time.
Use folded leaves for holding them
4) then place the hot ball on a baking paper sheet to let them cooling down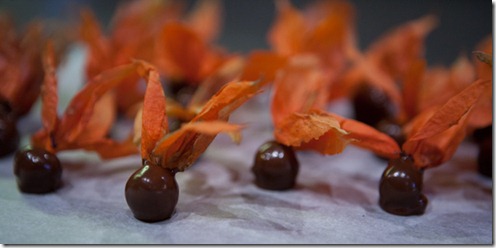 5) in the meanwhile get some hot chilies (I used real small ones that decide to happily colonize a lemon vase), smash them in a mortar and then add them to hot chocolate. Stir to amalgamate.
6) now you are ready for the last chocolate passage.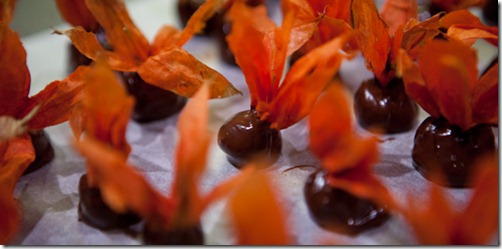 7) let chocolate solidify and eventually repeat last passage.
The chilled dark chocolate is in perfect balance with the sour flavor of alkekengi.
Now  you are ready to destroy this evil presence!
P.S.: I forgot for the rest of the week-end the fu$#£!…. idea on the new product.
Power of chocolate.